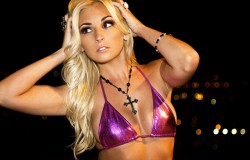 Posted on April 10, 2010 by Elite Makeup Designs in Celebrity Makeup Work

Hey Everyone! I'm excited to share these photos from some shoots  I was the makeup artist and hair stylist for with the beautiful & talented Tashia McIntosh. It is likely that you've seen Tashia before as she is everywhere- she has modeled for Limited Too, Affliction, Ed Hardy, Papaya Clothing, B Swim, Affliction Clothing, and was Miss [...]

No Comments. Continue Reading...