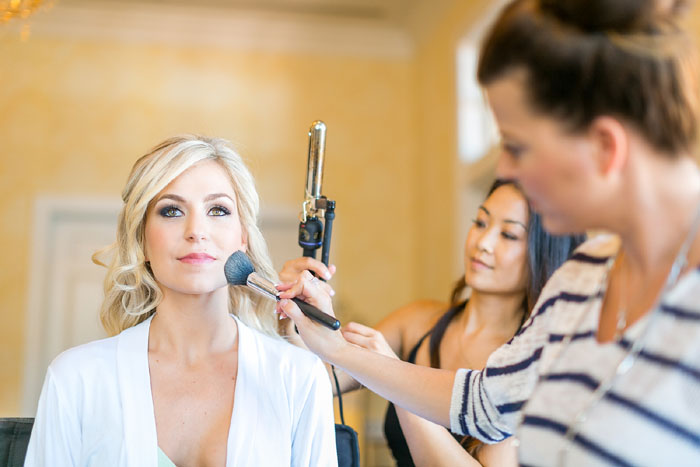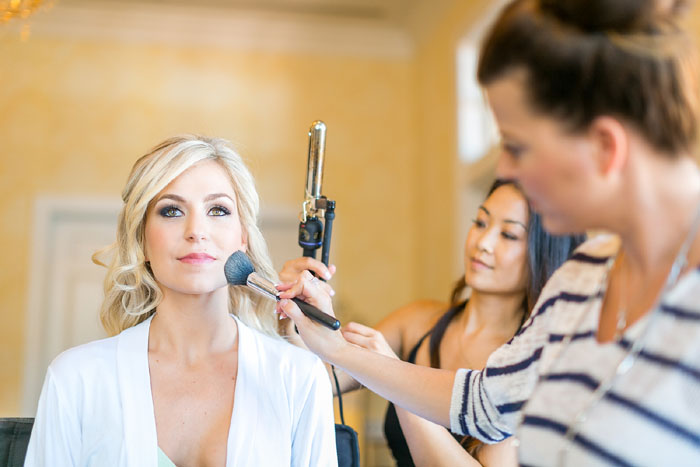 If you're tying the knot, you've probably started planning, and, planning big time. The venue, rehearsal, food, flowers, photographer, colors, dress, headpiece, and of course, your makeup. There's just so much you have to find time for in between your already busy life. If you've begun the search for a makeup artist, you probably have a lot of concerns about how you'll look on your special day, both in person, and, in pictures.
20 Questions You should Ask before Hiring Your Wedding Makeup Artist
While you don't want to offend someone, tsk-tsk, you do need to know which wedding makeup artist is right for you. After all, you don't want to look like a clown or a ghost, but you do want the right balance and to look your best when you walk down the aisle.
A good makeup artist can guide you toward a flattering look, but if you speak up more during a trial, you give her/him a better shot at pleasing you. It is important for your artist to know as much about you as possible–how you wear your makeup daily, what colors you're attracted to, colors that you never wear or dislike, products/finishes that are uncomfortable. —Glamour
If you want to find the right makeup artist but don't know where to begin, here are twenty questions to ask before you make a decision:
Do you specialize in certain techniques? Makeup artists are typically either well-rounded, doing a variety of techniques, or, specialize. So, you ought to be willing to ask what techniques they specialize in and how those might be a good fit for you.
What's your style? The majority of makeup artists have a style, like beauty makeup, dramatic, or vintage inspired. Know which one to help you make a decision.
Do you have a portfolio I can see? Makeup artists like to capture their best work, and, to give clients ideas with a portfolio. Flip through it and see what you'll discover.
What products do you use? If you don't wear a certain brand well or have never tried it, then you should ask about that.
What's your experience and background? Knowing their background and experience is important because it will help you decide if she or he is a good fit.
Will my makeup look the same in person and in photographs? There's no way to guarantee this, but in general, you'll get an idea if there wi'll be any big differences.
Will my makeup wear well and for how long? All makeup is temporary, and, it will be an emotional day. So, get in the know before your big day.
How many people can you handle? Generally speaking, makeup artists work with other professionals and they work well together to handle big bridal parties.
I have a skin condition (acne, oily, dry, etc.), can you conceal it? The answer will depend on your type of condition, but again, in general, you'll be able to conceal problem skin.
What happens during the makeup trial? You'll try different shades, colors, and styles that work best with your face and headpiece.
Who will do my makeup on my wedding day, or, what if you can't make it? The person doing your trial will likely be your artist on your wedding day.
Do you offer traditional and/or airbrush makeup? Most artists do both, and, some have more experience in one type than the other.
For my skin type, which would work best, traditional or airbrush? The answer will depend on the look you're going for and your skin type. The artist should be able to tell you which one will work for you.
What are your rates and when do I need to book your services? Typically, artists charge a flat rate and give group discount rates. You should book her services as soon as possible.
Will you do touch-ups after the ceremony? Though your makeup will be applied so it will wear well and for a long time, you might need a touch-up, so, ask about this.
Can you duplicate a look I found in a magazine or online? Most experienced makeup artists can duplicate a look, but that doesn't mean it will look good on you, so, be willing to try something else.
Will the look I found look good on me in person and pictures? Here again, what looks good on someone else, might not be a fit for you. That being said, your makeup artist will be able to give you an idea.
What type of payment forms to you accept? You want to know what types of payment are accepted, if there's a deposit needed, and, when you need to pay.
Are there any extra expenses? Some artists have extra charges for certain things like travel, but not all do.
Do you have a blog I can read? The reason you ask this question is it will tell you how dedicated she is to her career and clients. It shows professionalism and passion for doing makeup and hair.