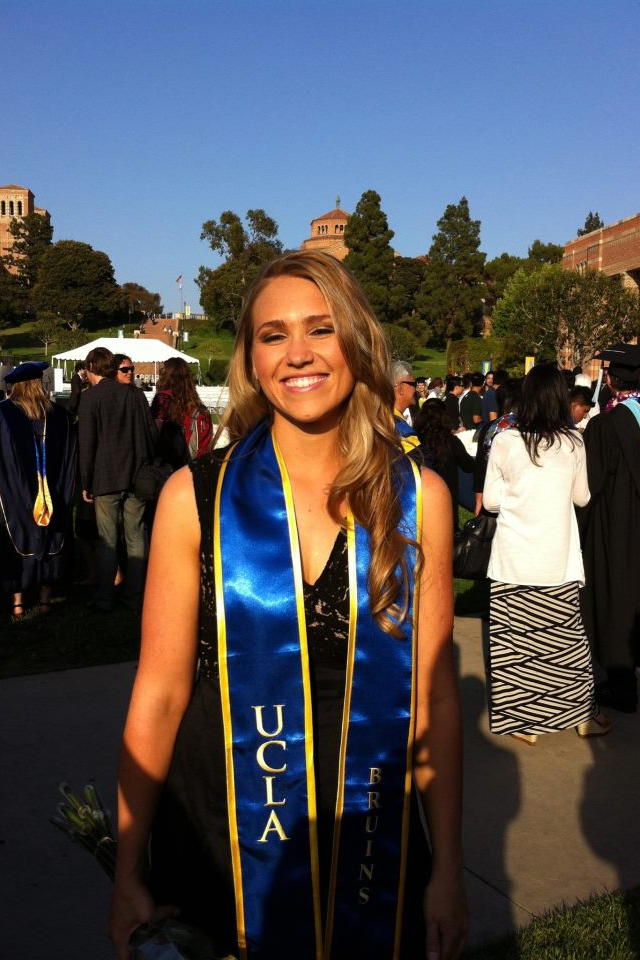 Hello Everyone!
I was the makeup artist and hair stylist for my good friend Christina Berke's UCLA Graduation .  What was amazing about this particular job is that I hadn't seen Christina in a while when she called me and asked me if I would do her hair and makeup for her graduation. It had actually been about 10 years since we had seen each other. It was such a blessing to have heard from her- she is one of those friends that you may not see or hear from very often but when you do, your friendship picks up right where it left off. What is also funny about this is my boyfriend is a passionate USC alum and started cracking jokes when he heard I was beautifying a UCLA Bruin for her graduation- the USC-UCLA rivalry in L.A. is a lot of fun and something we both enjoy. I told him he's just gonna have to deal with it :P
Christina is an extremely bright woman and as you can see from these photos, she is just as beautiful as she is smart. For this particular graduation she got her Masters in Education- she is a teacher here in Los Angeles. I have a huge amount of admiration for teachers and educators- what they do is helping shape the youth of tomorrow and Christina will undoubtedly play a huge role in the development of every child she comes into contact with. Teachers and educators are heroes in my book and the school system is lucky to have Christina.
I love being the makeup artist for graduations and special events– they are always such wonderful celebrations and momentous occasions. I want to thank Christina for reaching out to me to do her hair and makeup for her college graduation.  I'm so proud of everything you've accomplished and am blessed to have you as a friend. I also want to thank her for this wonderful heart felt review she left for me:
"Brittany is so talented! She is so sweet and makes you feel at ease. I hired her to do my makeup and hair for my Masters graduation and she did such an amazing job. I looked flawless and got so many compliments.You will leave her chair feeling like a movie star."
Love ya girl!
Stay Gorgeous,
Brittany Renee
los Angeles Makeup Artist and Hair Stylist
Elite Makeup Designs
View Our Makeup and Hair Portfolio
Photos From Christina Berke's UCLA Graduation