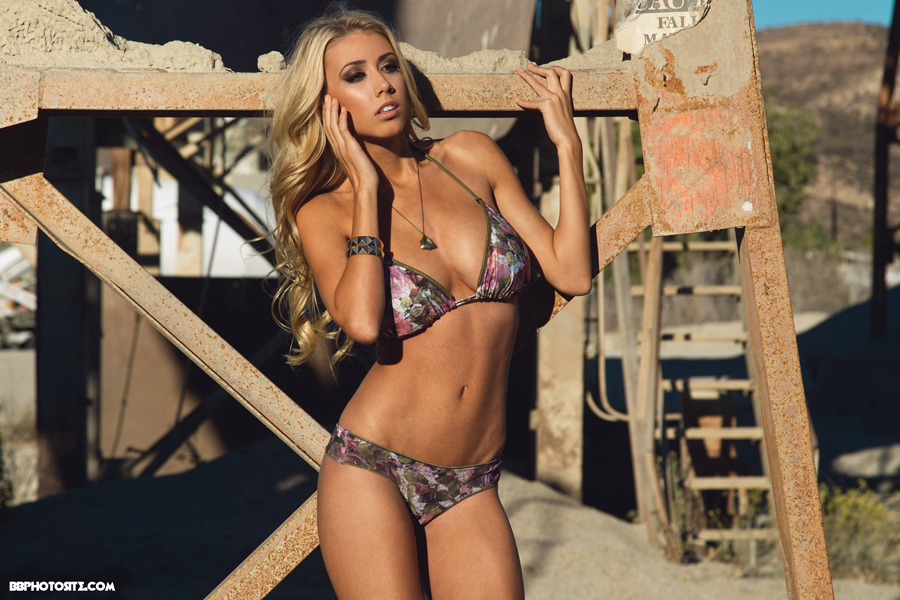 Hey Everybody!
I just got some photos back from a photo shoot that I was the makeup artist and hair stylist for with Blue Glue Bikinis here in L.A. Yes, I know what you are thinking, "Bikini shoots are being still being done?". Although this shoot happened about a month ago it is remarkable that we have such wonderful weather in October here in L.A and the reality is, no matter how little clothing is being  is being featured in a shoot, models do these shoots year round. Beauty and fashion never stops!
If you've never heard about Blue Glue Bikinis you should definitely check out their website- they have some really beautiful stuff. I worked on this shoot with the beautiful model Mariah Bevacqua and the incredible photographer Brittany Berggren. I have worked with both in the past and we have a fantastic working relationship together. The work we've produced together is always amazing- it is great to have relationships like that.
This shoot has been named "Mining For Gold" by Brittany. I think the photos perfectly paint the picture of that theme. Mariah (as usual) looks absolutely gorgeous and is glowing in her photos. I am so proud of her- I've been working with her for a long time now and it has really been great to see her career as a model blossom and I am very thankful to have been a part of it. She is destined for big things as she is beautiful, professional and awesome at what she does. I've worked with hundreds if not thousands of models and she is up there on the list as far as professionalism goes. Keep up the good work girl!
What do you think of the photos from shoot?Would love to hear from you in the comments!
Have a Beautiful Day!
Brittany Renee
L.A Makeup Artist and Hair Stylist
Elite Makeup Designs
View My Makeup Artist and Hair Stylist Portfolio