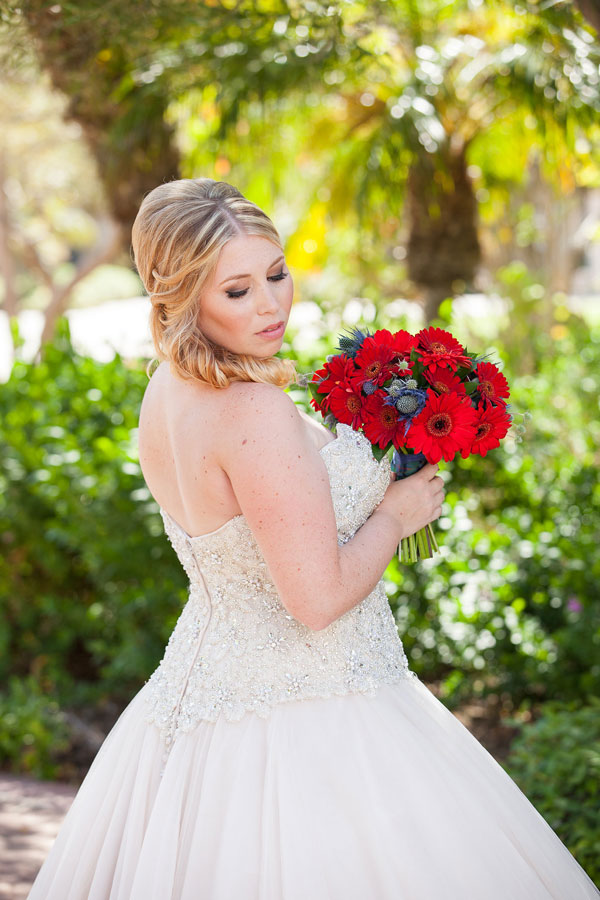 The photos I am sharing with you today are from a wedding I was the bridal makeup artist and hair stylist for a wedding that took place at the Fess Parker Doubletree in Santa Barbara, CA. Theresa, the lovely bride in these wedding photos was referred to me by my wonderful photographer friend Melissa Musgrove, which I am so thankful for! Theresa's spunky personality and awesome laugh made it so much fun to work with her. I first met Theresa when she came to my Calabasas studio for her engagement hair and makeup / trial run (EVERY bride should do a hair and makeup trial). For her hair and makeup trial We did a simple elegant half updo with curls and natural makeup look, with emphasis on her eyes to make her eyes pop!
Theresa, Gary (her fiancee) and Melissa were all present at the trial so I really got to spend time with the couple and get to know them, which I love being able to do. During the trial I learned about Theresa's love for Disneyland, which was where they headed right after the trial for their engagement photos, which I absolutely love. Who doesn't LOVE the happiest place on Earth? :)
Excited to say that as a result of the trail we went ahead and booked Theresa for her wedding day, which I was really excited about. She then called me about 2 months later and asked if I would do her hair and makeup for her lovey boudoir present for her hubby to be, and of course I said absolutely! What I love about my clients doing boudoir shoots is that they get to have fun and step out of their comfort zones and get all dolled up more than they are used to. So the look for Theresa for this shoot was big, voluminous curled hair with lots of tease for height. For her eyes with went with browns with a pop of black smokey smoldering eyes, individual lashes built up to look fluffy and fluttery but still looking natural when shot up close, and a pop of Blue Raspberry Creamy Lip Color by Bobbi Brown– (my favorite).
As mentioned before, Theresa's wedding was absolutely gorgeous and took place at the Fess Parker Doubletree in Santa Barbara, CA. As expected, it was once again a pleasure seeing and working with Theresa — beautifying her bridal party and family was such a relaxing and fun atmosphere to be around.
I wish Theresa and and her new husband Gary nothing but all the best in love and marriage and look forward to hearing from her soon!
Life is Beautiful,
Brittany Renee
Makeup Artist – Los Angeles
– View my bridal hair and makeup work