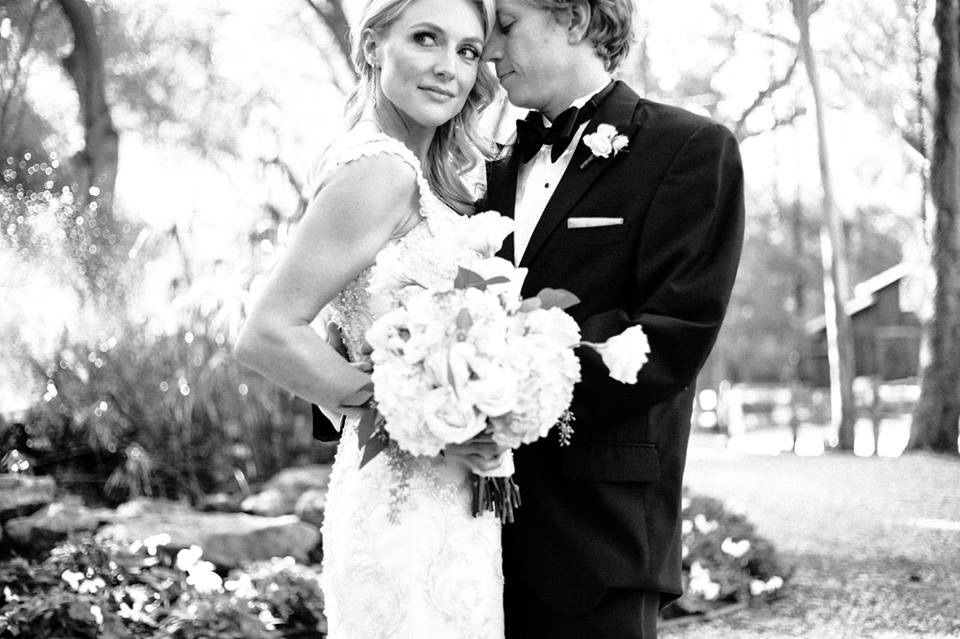 Today I'm very excited to share some photos from a wedding I was the bridal makeup artist and hair stylist for that took place at the Calamigos Ranch in beautiful Malibu, CA.
As you'll see from the amazing wedding photos, the event was a beautiful celebration of a gorgeous couple Quinn and Brent's love.
The second I met Quinn for her bridal hair and makeup trial I knew that she was going to be one of my favorites! When she came in, she was so relaxed, excited and had the best personality. From the start she was very clear that she wanted an old Hollywood glam look with side swept waves- and man oh man do I LOVE when a bride wants to play up that look! Doing so opens up a brides face and creates beautiful volume both on top on the band area and on the side with the waves!
For Quinn's bridal makeup look I placed my favorite loose pigment by MAC cosmetics in vanilla all over the lid up to the brow and then slightly cut the crease using a light/ medium brown shadow blending, carefully blending the two. I used black gel liner with a subtle but beautiful wing. As for her lashes, I applied small and medium individual lashes by Ardell to create the perfect length and fullness we were looking for. To accentuate Quinn's beautiful features I used blush to contour her face and instead of a normal Red Hollywood lip we that would traditionally be used for this look, we chose a more berry-like color… and VAVAVOOM! Quinn looked amazing. Here is the wonderful review she left for me after the wedding,
"PLEASE, do not even bother searching elsewhere. These ladies are the BEST. They are super easy to work with, professional, sweet, and more than anything INCREDIBLE at what they do! I still can't get over how I looked at my wedding – and my friends keep saying the same. I want to have them do my hair and makeup everyday! Several of my bridesmaids also took their numbers for future events. They are THAT good and I still can't believe how happy I am with how it turned out. HIGHEST recommendation! – Quinn"
Not only did Quinn's bridal look embody the elegance of old Hollywood glam, but the attention to detail extended to every aspect of the wedding, including the groom's attire and accessories. Brent, looking dapper in his tailored tuxedo, completed his ensemble with a stunning wood wedding band, adding a touch of rustic charm to his overall look. If you also want to make your wedding memorable and unique, the choice of Wood wedding bands perfectly complemented that thought, seamlessly blending nature's beauty with the couple's refined style. It is a celebration where love, glamour, and the allure of wood wedding bands can come together, creating an unforgettable day for couples, and all who witnessed their magical union.
It makes me so happy when such wonderful people have such beautiful weddings. I can't thank Quinn enough for making allowing me to beautify her and do her hair and makeup for her wedding. A special thanks also goes out to Jenny Smith & Co., who did an amazing job with the photography.
Life is Beautiful,
Brittany Renee
Elite Makeup Designs
Photos of The Calamigos Ranch Wedding in Malibu