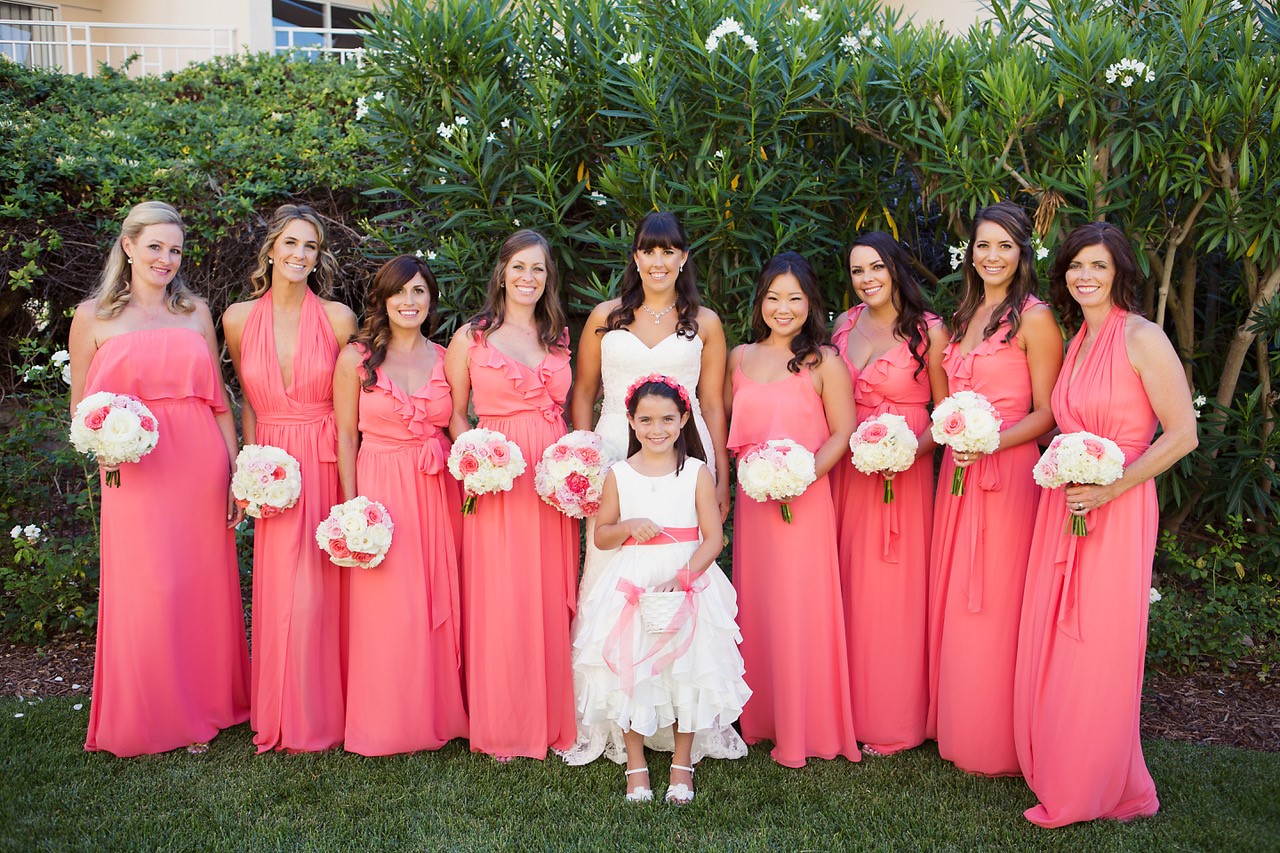 Today I have the great pleasure of sharing some beautiful photos from a wedding I was the bridal makeup artist and hair stylist for that took place at the Loews Hotel in Coronado. I love all my brides, but being a part of this wedding was extra special to me because the bride and groom, Mike and Lindsay, are very good friends of my husband and I's.
Mike and Lindsay are wonderful, fun people who have known each other since they were in college, and I have had the great pleasure of knowing Lindsay for the past six years. We connected the very first time we met. She has become one of my dearest friends and is such a fun, outgoing sweet person to be around!
I can't even tell you how excited I was when she asked me to do her hair and makeup on her wedding day. Some people would question whether or not this would be something I would want to do since in this case I would also be a guest at the wedding…  and in similar instances the bride has asked me whether or not I was willing to wake up at the crack of dawn on the day of a friend's wedding- I always say HECK YES, and even more-so in this case because Lindsay is such a doll. I love being a makeup artist– it is my passion. Because that's the case, there is nothing more exciting than being able to see a beautiful bride I worked on (especially when it is a good friend) walk down the isle.
Many times bridal makeup artist have to wait 6 to 7 months to see photos from the weddings we work on…  In this case, I didn't have to which to me is SO much better since I am so passionate about my work!
Creating Linday's Bridal Makeup Look
One of the most important things a bride can do prior to hiring a bridal makeup artist is a wedding hair and makeup trial. During hair and makeup trials, good makeup artists will ask brides to bring inspirational photos with them so that way we get a little sense of what they are wanting for their big day.
When Linday and I first met about her look, Lindsay expressed that she wanted a soft, open-eyed look, which I completely agreed with. When it came to the colors we were going to use, she said she trusted me to use whatever I thought would look best. Some of my favorite colors to make brown eyes pop and to help lighten and brighten them are colors with a purple undertones or hue to them. Purple you ask? YES, purple ladies.  I'm not talking about purple all over the lid or anything crazy- I'm talking about just enough purple so that it just barely shines through the rest of the colors.
As you can see from the up-close picture below we just placed the slightest pop of purple right on the outer corner of the eye near the eyeliner. We used a a lighter color all over the lid using MAC loose pigment in vanilla for the bright eyed look we were looking to achieve. I then used a gel liner by Laura Mercier to create a thin slight winged liner for a little bit more detail.  To bring it all together, we used a mixture of flare individual lashes by Ardell Lashes for a soft fluttery look.
Creating Linday's Flawless Skin Look
For Lindsay's skin I used my holy grail, Makeup Forever HD foundation through my airbrush machine to give her flawless, even skin tone while still letting her freckles show through. I applied bronzer and soft pink cheeks for a flushing, yet bronzed look to go along with the gorgeous summer weather outside.
Too Much Fun at Lindsay's Fairy Tale Wedding
Mike and Linday's wedding was like a dream come true. It was an amazing gathering of dear friends and family and the setting couldn't have been more perfect. The Loews hotel provided the perfect setting for an amazing celebration and I'm so proud and honored to have had the opportunity to be a part of it.
Everything about the wedding and the reception were fantastic- the speeches were heartfelt, the food was amazing and we danced the night away.  When you bring together such a close knit group of good friends for such a momentous occasion, you get magical moments in time that those who had the opportunity to be a part of will never forget.
Wishing Mike and Lindsay nothing but the very best in love and marriage.
Stay Gorgeous,
Brittany Renee
Elite Makeup Designs
+ View Our Wedding Hair and Makeup Portfolio
Photos From Lindsay's Beautiful Wedding at the Loews Hotel in Coronado