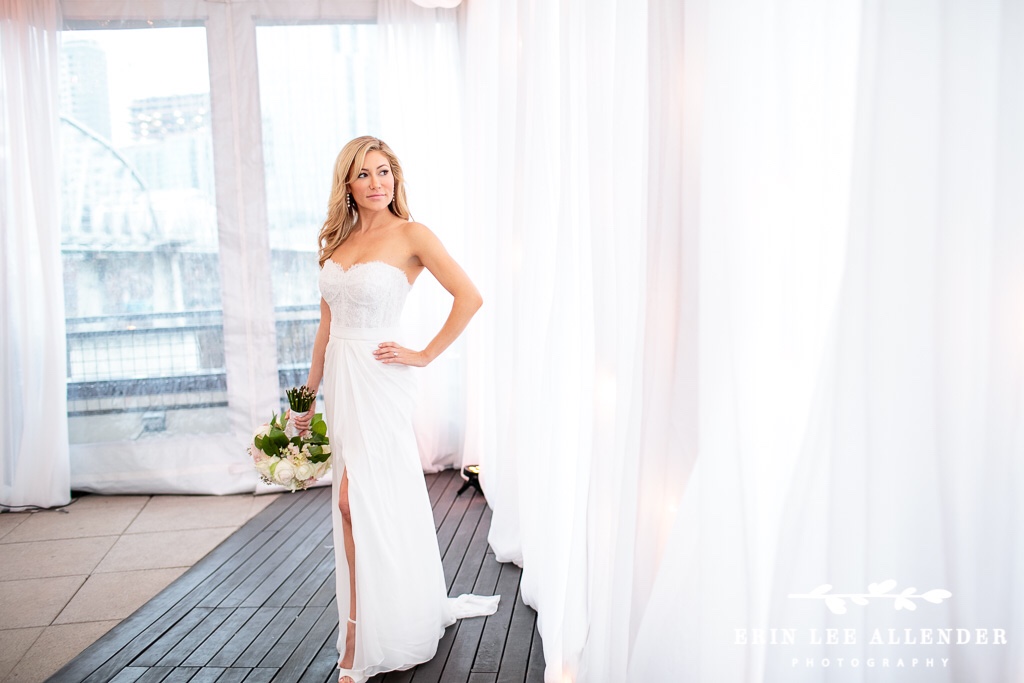 One of my favorite wedding makeup artist jobs that I've done in all of my 11 year career of doing weddings was dolling up my gorgeous friend and client, Jackie Johnson, for her big day.
I met Jackie on a photo shoot about 8 years ago, where I got to do her hair and makeup all day. After the photo shoot, if Jackie had a special event where she needed hair and makeup, she would book me as her artist. After many years of Jackie being my client, we grew an awesome friendship! I'd have to say, we have been through a lot in our separate lives together, and it's always great to have someone to chat and have a fun time with, even when you are supposed to be working :p
Those of you who do not know Jackie Johnson, she is a meteorologist for CBS, as well as a clothes designer for her own company, The French Closet (which you should 100% check out)! It's Paris-inspired clothing and decor, expanding in product offerings everyday. I have been the first to see the samples up-close, before they are even launched, they are high quality and just beautiful pieces for all women! It's a smaller collection each season but my favorite part about her line is that she doesn't make clothes she does not believe in. So, even if it is only a couple of items, you know you are getting her best ideas and designs for the right season. Also, anytime you buy something from The French Closet, Jackie donates $2.00 for every item sold to Vitamin Angels.
Vitamin Angels helps at-risk populations in need—specifically pregnant women, new mothers, and children under five—gain access to life changing vitamins and minerals. Vitamin Angels works in underserved communities in partnership with over 700 NGOs in more than 50 countries around the world. Vitamin Angels is the recipient of seven consecutive four-star ratings from Charity Navigator, a third-party charity evaluator, for financial health, accountability and transparency.
After a long day of shooting for her Spring Line last Year 2016, she was throwing a dinner party later that evening with some close friends, when she asked me if I wanted to join and I said I'd love to! At that moment she got a HUGE smile on her face and said, "Perfect; you'll get to meet Patrick!!" Of course, I knew who Patrick was at that time, the same man's name that kept making her giddy when she talked about him after date nights. As the evening went on, I personally saw just how happy my friend was with Patrick and it made me so beyond happy for her!! I got some time to chat with him and see how nice and down-to-earth he is. I approved he could date my friend — hahahahah! This sweet romance then turned into a proposal and then one of the most beautiful weddings I have ever attended, pretty much straight out of a magazine, with perfect the decor and the right location.
Jackie is originally from Nashville, so she chose to get married in the Music City. When she asked me to come and be her hair and makeup artist, I nearly had a heart attack! I have always wanted to go to Nashville! Now, not only to I get to do what I love on the big day of a good friend, I also get to spend some time in downtown Nashville! Ohhhh man how I love country!! :D:D:D I could talk about Nashville for days but i'll leave you with this…you MUST GO! It's full of beautiful people who are beyond friendly. And, the restaurants, all the bars, and everywhere else, were covered with the most talented singers I have had the privilege of hearing!!
The wedding location was at The Bridge Building, in downtown Nashville, on New Year's Eve. The Bridge Building has 3 different floors in which hosts different events on each floor. Cocktail and ceremony on the first floor, reception on the 2nd floor, and to the 3rd floor. At 11:30, it turned into a New Year's Eve party! As you can see in the pictures below, the reception and ceremony was literally every woman's dream wedding! And the bride, groom, and bridal parties were just picture perfect. The photographer is whom made this wedding come to life with the breathtaking shots, capturing every moment and detail.
How I Created the Hair Look
For Jackie's hair, she wanted to make sure everything was very soft, flawless, and effortless looking. (Big soft curls is one of my favorite hair styles to create.) Choosing about 1 to 1 1/2 inch sections and curling with a 1 1/2 inch curling iron away from the face, is the best way to create the hairstyle. Creating the amount of volume on top the client is comfortable with, it's best to make sure it is not too high. If it's too high, it can take away from the effortless natural look you want.
How I Created the Makeup Look
Now this one was easy yet hard. I say this because I have been doing Jackie's makeup for over 8 years and always love how it turns out. But, I told her, "I want you to feel like a bride!" This was the most important part to me as a makeup artist, because when you work on someone for so long, it's easy to just do what you always do, because you know she loves it. However, for a wedding day, you have to take extra steps to truly give that bridal feel and look for the person. It is difficult to explain the little changes that I made to make sure that it's a perfectly natural yet a photo-friendly bridal look. (Let's just say by the look of the photos, it Worked :D)
Her skin, and eyes along with the hair and THAT dress just made everything come together perfectly. I used all of my absolute favorite products on her face that day. Tom Ford, Makeup Forever, Too Faced Cosmetics, Urban Decay, Tarte, Ardell, Togo Spa, and Bobbi Brown.
Thank you so much Jackie and Patrick for allowing myself and my husband Sergio to attend such an amazing beautiful event! Jackie, I look forward to many more years of getting to doll you up as well as being a close friend. I'm very thankful and blessed to have you in my life. I wish you and Patrick all the happiness in the world! Luv you!