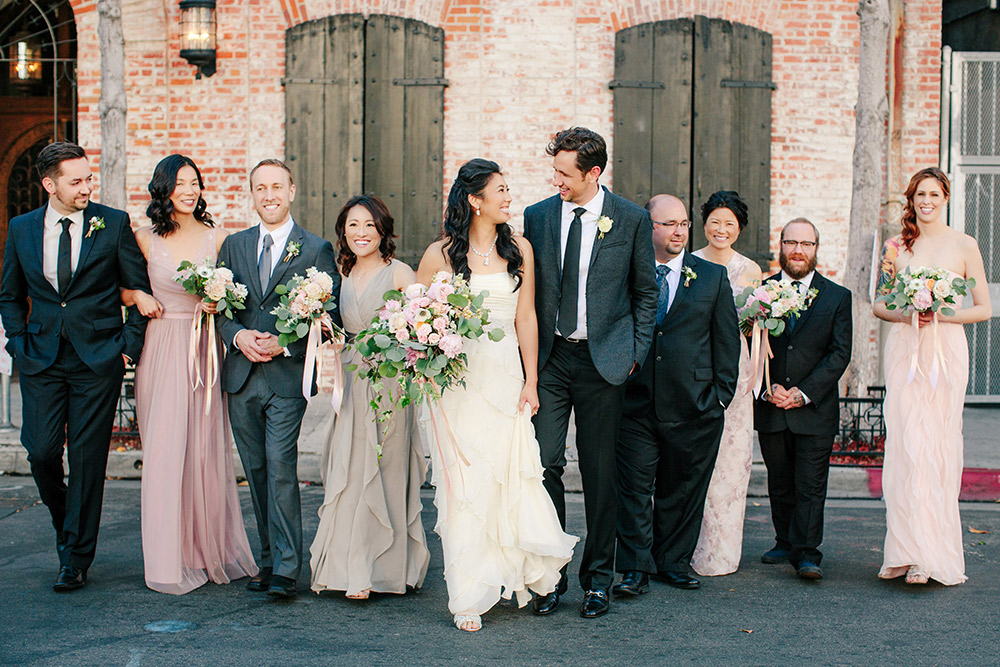 Excited to share with you photos from a beautiful wedding my team of bridal makeup artists and hair stylists had the opportunity to work on that took place at the Carondelet House in Los Angeles, CA. 
The weddding was for the beautiful Akemi and Brian and as you can see, was absolutely gorgeous. I had the pleasure of meeting Akemi thanks to the wonderful wedding coordinator Kaci Mallat of XOXO weddings.
I first met Akemi, who lives in Texas when she came into town for a few days to handle wedding business and do her bridal trial. She is such a sweetheart.
When I first met Akemi at her bridal trial, we discussed her dream wedding look and what she imagined for her big day.  She then went on to tell me how extremely sensitive her skin is to makeup products. A lot of brides have issues like this and think that they can not hire a makeup artist because of it. Let me tell y'all that this is absolutely incorrect! If you hire the right makeup artist for your wedding— you will be able to get the perfect wedding look EVEN if it is just using all your very own products that you know are safe for your skin.
Creating Akemi's Wedding Day Makeup Look:
To create Akemi's look, I used Akemi's own foundation to give her seamless, flawless skin. For her eye shadow we used one of her favorite eye shadow pallets that she had with her, using soft brown and light coral color on the lid for a brightening pop. We also used a little liner and some amazing lashes that just pulled the whole look together.
To create Akemi's hairstyle,  we gave her a very tousled ,textured half up, half down look. The top part of her hair was all pulled back and we teased and textured to make it all look very effortless. For the rest of her hair I used my www.numeusa.com  3-in-1 curling wand to create beautiful waves. Finishing the look we added the most perfect hair piece our Brides and Hairpins. For those of you wondering the exact name of the piece, it is the Alyssa Clip- it is amazing. These clips have the most incredible sparkle and quality- all for a killer price!
As you can see from the photos, Akemi looked amazing and her wedding was gorgeous. Thankful I got to beautify her and her six bridesmaids. Wishing Akemi and Brian nothing but the best in love and marriage.
Check out the photos below! Let me know in the comments section below what you think of the venue her hair and makeup style.
Photographer: www.priscilaValentina.com
Photos From Akemi's Wedding at the Carondelet House