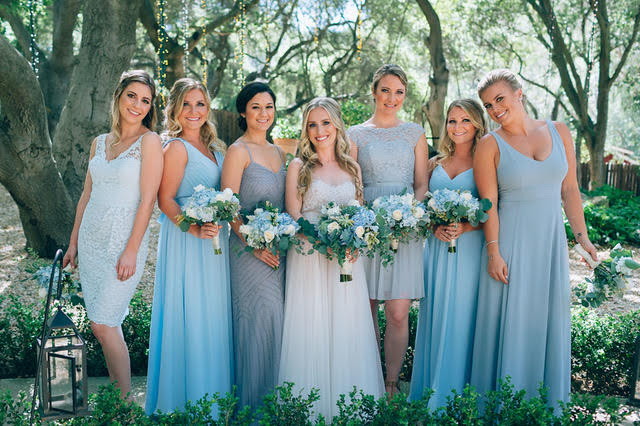 I was amazed and nearly moved to tears hearing the dreamy proposal story of Kaitlin and Ryan. Kaitlin got the sweetest surprise from the love of her life at her most favorite spot in LA, the Getty Villa. A regular museum visit day in LA for the couple ended in the dreamy proposal when Ryan went on one knee with the beautiful ring to propose Kaitlin.
Kaitlin and Ryan made a perfect couple and deserved nothing less than very best for their wedding. They chose the most romantic and absolutely stunning Calamigos Ranch in Malibu, CA as their wedding venue. As I start to discuss Kaitlin's wedding expectations for hair and makeup for her and the bridesmaids, I realized how much fun I am going to have as her Wedding Makeup Artist because of the similarity in the thought process in achieving the flawless makeup and hairdo for the big day.
How did we start?
Kaitlin and her bridesmaid group were absolutely amazing to work with. They had the right attitude to explore the various ideas for their makeup and hairstyling to perfectly match it with their bridal and bridesmaid dresses. I started with helping them with the design ideas to give them a unique look and to allow them to feel confident and look their best amazing self on this special day.
Achieving the desired look
My work at Elite Makeup Designs is always known to achieve the most elegant and classic look with the customized detailing for the makeup and hairstyling of the brides and bridesmaids.
For Kaitlin's makeup, we did a smokey brown eye color that really popped Kaitlin's' baby blue eyes. To complete her looks, we used flawless airbrush makeup for the skin that accentuates her beauty and made her look like the most perfect and gorgeous bride.
When it came to hair styling, we did loose beach waves with a half up half down braid for a perfect amount of detail without being overdone.
For the bridesmaid's styling, my team and I wanted to make sure each bridesmaid looked her best and perfectly compliment the bride and overall wedding theme. We made sure that each bridesmaid had an expert wedding make-up artist to complete their look and styling.
The most beautiful wedding
The pictures of Kaitlin and Ryan's wedding speak volumes about the gorgeousness of every single aspect. Right from the wedding décor, floral arrangements and Non traditional Wedding Dresses was just perfect. Check out their wedding pictures here.
Kaitlin and Ryan's big day was a perfect wedding in every sense. We couldn't be more grateful to have been part of their special day. We wish the couple all the best of everything and a blissful married life ahead.
Vendor Contribution at Kaitlin and Ryan's wedding
Flowers: Exotic Green Garden:  http://exoticgreengarden.com/
Venue: Calamigos Ranch Oak Room: http://www.calamigos.com/the-oaks-room.html
Coordinator: Mary Malone:  http://www.eventsbymandm.com/
Photography: Fitz Carlile:  http://www.fitzcarlileweddings.com/