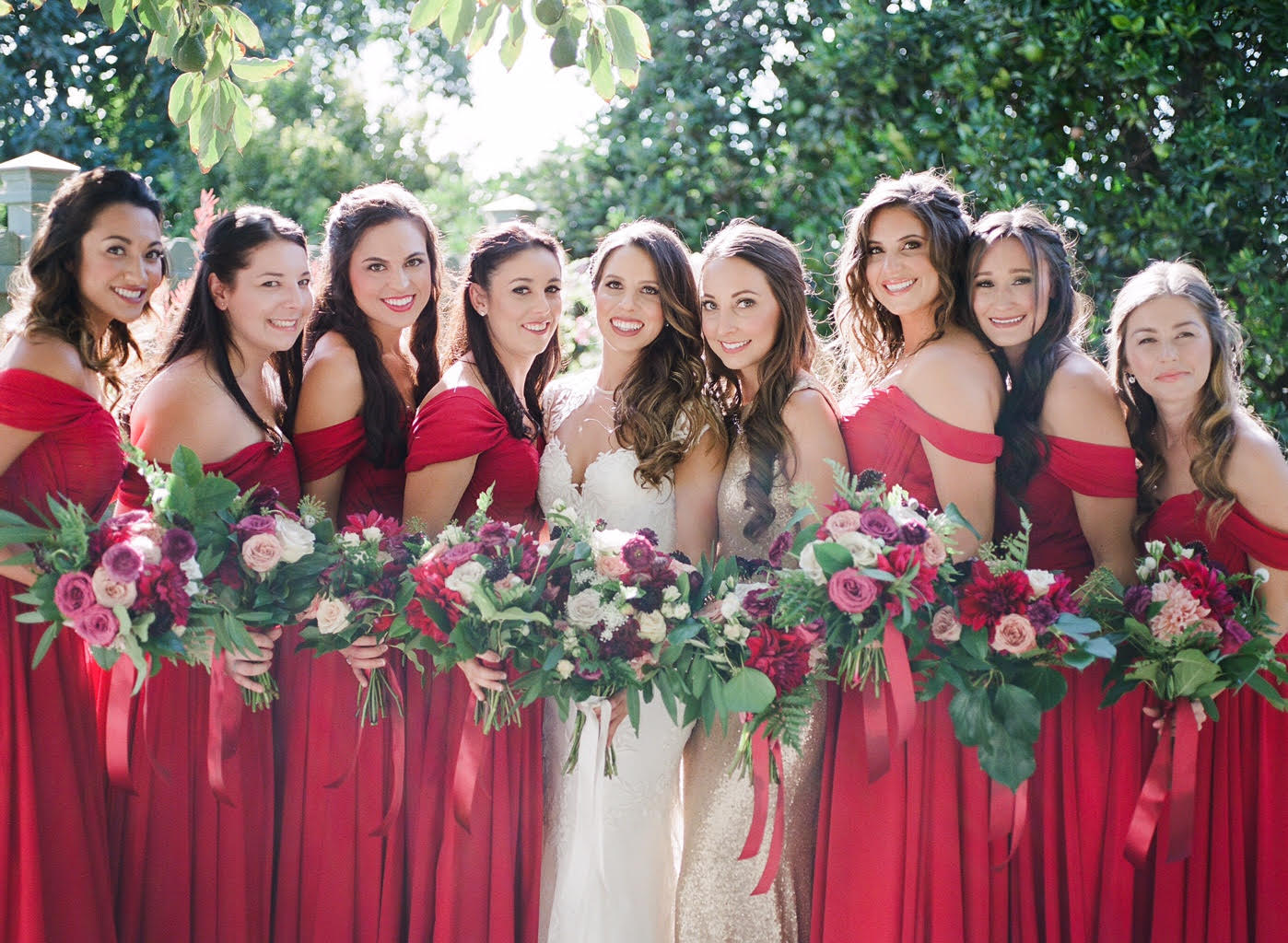 Today I'm super excited to share with you some wedding hair and makeup photos from a wedding I was the bridal makeup artist and hair stylist for at a wedding that took place in October of 2016 at Gerry Ranch in beautiful Camarillo, CA. The beautiful bride you see in the photos is Michelle, whom is a dear friend of mine. Her and her (now) husband Dane are amazing people and are a lot of fun to be around.
As I've mentioned several times in past blog posts, nothing is more exciting than being the bridal hair and makeup artist for a friend's wedding. As you can see from the photos, Michelle looked absolutely gorgeous on her wedding day and made an amazing bride- I'm proud to be part of what turned out to be such a wonderful event. Jillian from Jillian Rose Photography did a fantastic job capturing both Michelle and her bridesmaids. Here's how we created their looks.
Creating Michelle's Bridal Hairstyle
For Michelle's bridal hairstyle we went for an elegant, vintage look for this beauty. The thought was to create a hairstyle that would enhance her breathtaking wedding dress. For Michelle's hair, we styled swept barrel curls to the side, placing a simple perfect hair pin to add a little detail and sparkle.
To achieve the right look, we set Michelle's hair into a roller set and let that sit for about 4 hours (the longer the hold, the better the longevity). After makeup, we took away the roller set and teased her entire head, giving us as much volume as we could create. Swooping it over to the side, locking it in with bobbi pins, touching the curls up, if needed, with a 25mm Wand by NUME. Then, we added the hair piece. Waalaa!
Creating Michelle's Wedding-Day Makeup
For Michelle's wedding-day makeup we went with a classic red/maroon colored lipstick, for the real focal point of her look. Keeping her eyes simple yet perfect for the overall look, we used soft browns to create depth and pop. Flawless winged liner and mix of short and medium individual lashes by my all-time favorite brand ardell Lashes, helped her look come alive.
For her skin, we used Makeup Forever HD foundation in #125/128 with an airbrush to create her flawless skin.
Thank You Dane, Michelle and Her Amazing Bridesmaids
I want to take a moment to thank Dane, Michelle and her amazing bridesmaids for being such incredible people to work with. As I've mentioned before, Dane and Michelle are an amazing couple and if what I've seen is any indication of their future, they are undoubtedly in for a long life worth of love and happiness.
Life is Beautiful,
Brittany Renee
Elite Makeup Designs
+ View Our Wedding Hair and Makeup Portfolio
Photos From Michelle's Wedding at Gerry Ranch