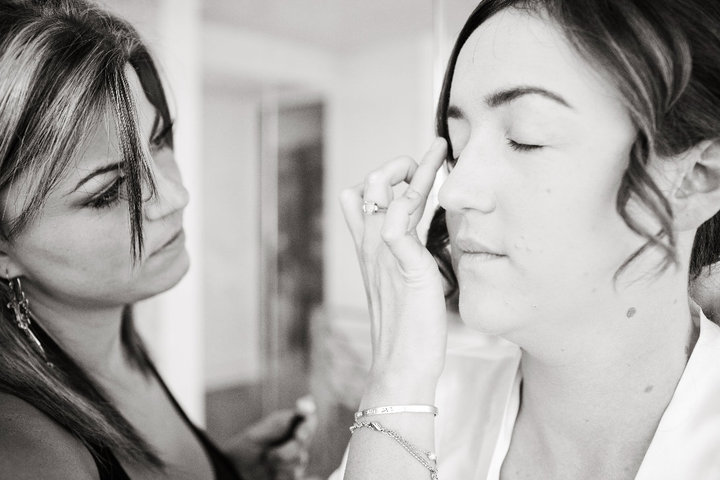 Your wedding day is more than a special day, it's a living memory, and, one that you'll look back on fondly for many years. It's important to have the right right dress and veil, your best friend as your bridesmaid, cute bridesmaid dresses, a handsome tuxedo for your soon-to-be hubby; and of course, a gorgeous location with all the right decorations, along with a scrumptious, well decorated cake.
Every detail is important to get right, particularly your hair and makeup. On your wedding day, you certainly don't want to be dealing with bad hair, or struggling to get your makeup right. You'll be in your dress for hours on-end, from the time you are in the dressing room, through an emotional ceremony, having pictures taken with your man, and throughout the reception. Every eye in the room will be on you and the spotlight is where you want to shine.
The Importance of a Hair and Makeup Trial
Some brides are brave and crazy enough to wing it, opting for a quick and simple updo, but for the majority, on-the-fly isn't acceptable. After all, you plan for months in advance for everything and your hair and makeup shouldn't be any different. When you walk down the aisle, it's your chance to wow, and, just perhaps, stir-up a bit of envy.
Some salons really will offer free trials, no strings attached. Others will make it free if you book (and pay for) your wedding-day hairstyle. Others will charge a reduced fee for trials, but won't curl all of your hair or place your veil, headpiece, or hair clips. And you want to know exactly how your hair will look, accessories and all. —Glamour.com
To look your best, you need to have the right look and that's far more than your dress–your makeup and hair will have a big impact. This is where a hair and makeup trial comes-in handy. You'll get to try different styles and see how they look with your headpiece.
5 Reasons You should Do a Hair and Makeup Trial before Your Wedding
It's nerve-racking enough to get everything ready for your big day and you don't want to rush through your makeup or hair. Here are five good reasons you should do a hair and makeup trial before your wedding:
You need to be in-the-know. Every woman has qualms about her hair and makeup. Face it, you gripe about them practically every day of your life. Think about it this way–getting out of the shower, you really want to do your hair just like your stylist does. Now, multiply that many times over, and that's how frustrated you'll feel about finding the right look. This is especially true if you really don't know what you want. With a hair and makeup trial, you'll be able to narrow all those styles down and find the one that fits best.
You're super-picky about your makeup or hair, or, both. Okay, so you fret over every aspect of your makeup, your hair, or worse of all, both. The great thing is that your stylist will be able to test and tweak until you find the right look. But it's important to remember, your stylist can't read your mind, so, you have to be willing to communicate. Don't feel as though you're insulting your stylist.
You have skin and/or hair issues. If your skin breaks out or you're growing your hair out, those things need to be discussed. In addition, you can talk about things like color, extensions, and so on with your stylist. A trial will give you a chance to hone-in on the right combination and one that fits your dress and veil.
You found the perfect style, but… One problem with looking through magazines and social media is you don't always get the whole picture. In other words, you might find the perfect style, but only see one or two angles. Don't worry, that's what a hair and makeup trial is for, to experiment and find exactly what you're looking for.
You've become so confused. Speaking of magazines and social media, there really is such a thing as too much information. You might feel overwhelmed and throw your hands in the air. Everyone has different tastes and you're no different. Bring plenty of ideas along and be open to suggestions.