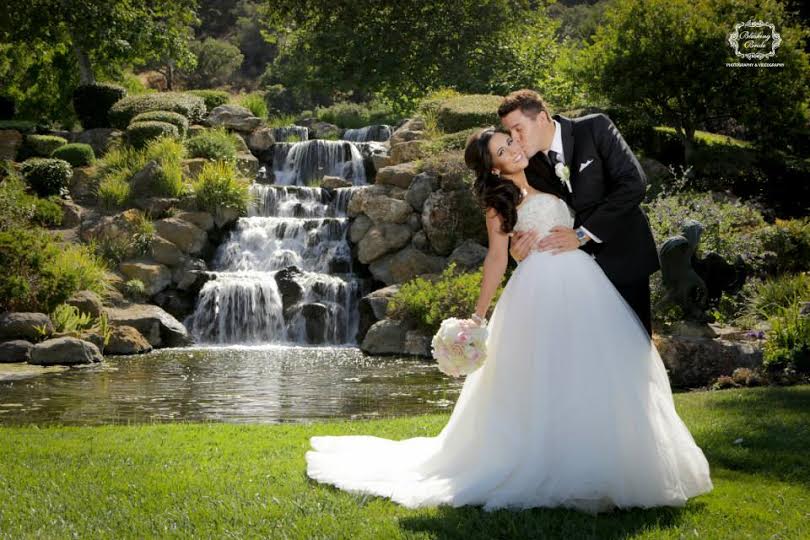 Excited to share some beautiful wedding photos from a wedding I was the bridal makeup artist for that took place at the Sherwood Country Club in Thousand Oaks, CA. On this wonderful day my team and I also had the pleasure of beautifying all six of the bride's bridesmaids.
The beautiful bride in the photos that you see is Sheila, whom I first met after she came to my beauty studio in Calabasas for her bridal hair and makeup trial.
As I encourage all of my brides to do, Sheila came wonderfully prepared to her trial with ideas and photos from Pinterest that she loved, as well as notes as to what she loved from each picture. There are many places to find inspiration for your bridal hair and makeup look- as someone who has worked on thousands of brides, I highly encourage that if you are in the process of getting prepared for your trial, you spend some time gaining some inspiration.
I'm happy to say that during her trial I was able to bring the photos she brought with her to life on her beautiful features. To create the look you see in these wedding photos we gave Sheila side-swept gorgeous curls with lots of volume on top. For makeup, we used brown and deep brownish purples to create a smokey eye to really help lighten and brighten up Sheila's eyes. I also applied individual lashes, and as I do with all of my clients, applied airbrush foundation. She looked fabulous!
I want to thank Sheila for choosing  Elite Makeup Designs to do her hair and makeup on her wedding day. I also want to thank her for the photos and for really being such a sweetheart and a pleasure to work with. I am so thankful to have the chance to beautify such wonderful brides on one of the biggest days of their lives!  I also want to thank my wonderful hair stylist and makeup artist Quendie for doing such a wonderful job.
Life is Beautiful,
Brittany Renee
Photo Credit: blushingbridephotovideo.com
Photos From Sheila's Sherwood Country Club Wedding