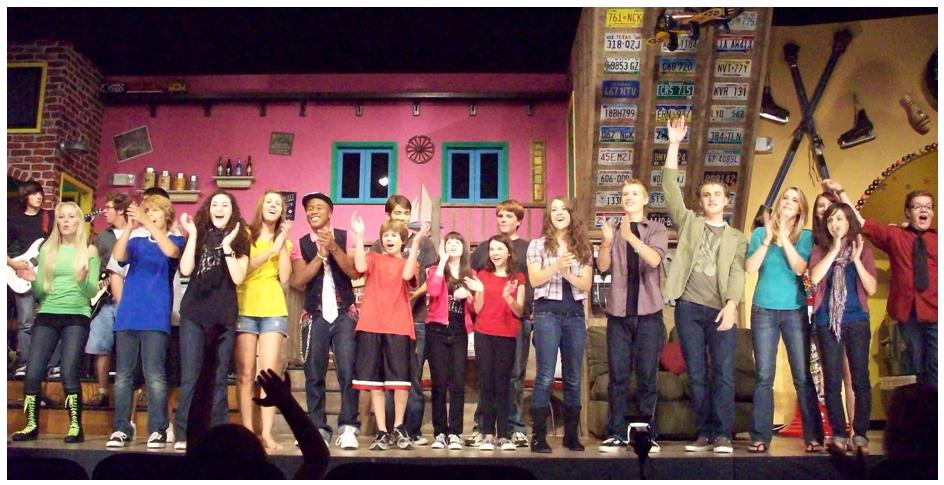 Hey Everyone!
I was fortunate enough to have had the opportunity to be the makeup artist for the live show and web series Comedy Whacked that was filmed in Los Angeles, CA. For those of you who don't know what Comedy Whacked is here is a description from the website," Comedy whacked is the next big hit show for kids & teens! Think SNL…Think Conan O'Brian… NOW THINK BOTH!!! BUT, for kids and teens!"
Comedy Whacked is filmed in front of a live audience with a live teen house band, hosted & performed by some of the funniest kids & teens around. The hosts of the show, Tessa Grady and Kyle Dietz are tremendously talented. Tessa is 15 years old, a hilarious comedian & singer. Her credits include King of Queens, Sony commercials & stage performances in Wizard of Oz, Cinderella, Meet Me in St. Louis, Annie and Oklahoma. As a vocalist, she can be heard on The Mommy and Me, Disney Princess CD series, and Santa Clause 3. Kyle is a 16 year old phenom that loves to entertain, act, play music. He's worked with Heather Graham, Darryl Hannah, Robert Patrick & Sophie Bush in Supercross, Nick Stahl & Clea DuVall in HBO Miniseries Carnivale. Kyle has also hosted/emceed a number of teen-kid celebrity charity events in Hollywood.
Working on Comedy Whacked is a blast. Everyone involved in the show is incredibly talented, and there are some really great names attached to the project. These include:
Lauren Burgoni
Dylan Bennet
Allie Carieri
Jennifer Cook
Ryan Lefton
Stacey Hicks
Joe Grady
Aubrey Jacobowitz
Nick Krsnich
Vincent Lauro
Mitchell List
Kacie Lynch
Brandon Jamal White
As you can see, this is an all-star cast of young talent. I really think this project has a lot of potential. During the first few episodes Tessa and Kyle interviewed Tom Kenny (voice of Spongebob Squarepants), Malcom David Kelly (from Lost), Mathew Underwood and Noah Cyrus.
Production Team:
Stan Carlson: Creator/Producer/Writer
Mike Dietz: Creator/Producer/Writer
Ned Lott: Executive Producer/Talent Coordinator
Leanna Sheldon: Casting
Below are some of the head shots that we took for the show. You can see more of them in our head shots gallery. I want to thank the production team and all of the wonderful young talent on this show for being such a pleasure to work with. Looking forward to continuing to work with you- you rock!
Brittany Renee
Makeup Artist and Hairstylist
Elite Makeup Designs
View Our Makeup and Hair Portfolio
Head Shots and Photos From Comedy Whacked