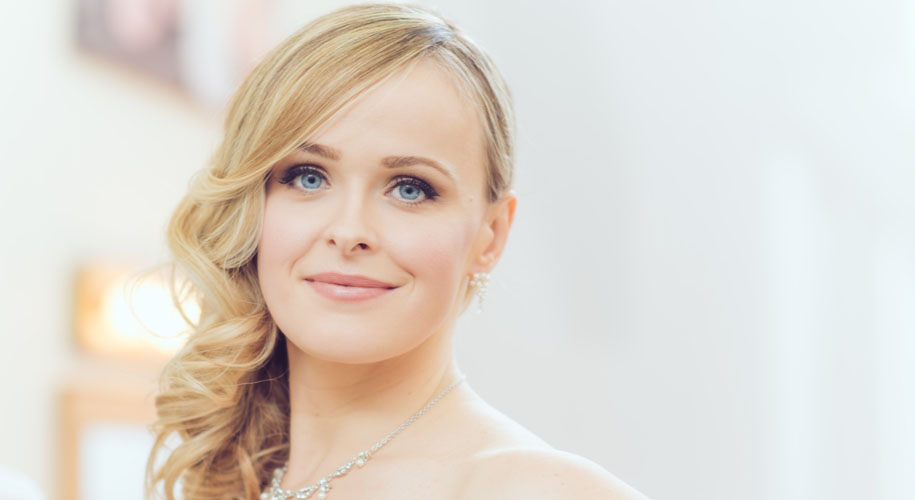 You're busy buzzing about bustling from one place to another, trying to plan the most beautiful wedding. Flowers, invitations, favors, cake, and the list goes on and on, but, none of these you'll be wearing. Your hair and makeup, however, you will be sporting from start to finish- and you want it to be perfect.
On your wedding day anything can literally happen and that's why you take such care in crafting every detail of your entire day. It's also the reason you need the right look, the right hair and makeup — the two things you can completely control. Unfortunately, therein lies the problem — you know which flowers to pick and which invitations are the absolute cutest, but when it comes to your look, you are totally unsure. We are here to help!
10 Places You To Gain Inspiration for Your Wedding Hair and Makeup Look
While you might love your fresh from your favorite hairstylist look, and know for certain you want to steer clear away from an unmanageable hair day, you just aren't positive it's best to play it safe or go for a whole new style. Ditto for your makeup. This begs the question of just where you'll find the right inspiration to lead you to a style that fits yet makes your girlfriends flush with envy.
Bring references to your makeup trial. Start looking for images of makeup that you really like and bring them with you on the day. Try to identify what it is you like about the make-up in the image and take into account that if you have the skin colour of Dita Von Teese then the makeup of Kim Kardashian won't necessarily translate onto you,' says Rebecca from M•A•C. —Marie Claire
Sure, you can easily pickup some magazines, but, the folds are full of Photoshopped pictures, something you're really afraid to try to mimic. Well, there's two sides to every story, as the saying goes, those professional proofs might be pored over before being printed, but put these alongside some real-world examples, and you'll have plenty of places from which to draw inspiration for your wedding hair and makeup:
Pinterest. Perhaps a girl's best digital friend. You find crafts here, cute little ideas, and, you can also find an abundance of wedding hair and makeup styles. Here, you'll find all kinds of looks, from sultry to sizzling, from sophisticated to sassy — there are pins galore to explore. Need a place to start? Checkout our bridal hair and makeup Pinterest board.
Instagram. Hashtag #weddinghairandmakeup honey and hunt down those inspirational images. While this platform certainly isn't the powerhouse played by Pinterest, there are thousands of photos to peruse.
Bridal Magazines. Bridal magazines are a fantastic place to find inspiration. While these might be heavy on the editing, they are nevertheless places to find all kinds of looks.
Google Images. Go to images.google.com and type "wedding hair and makeup". You will find a ton of amazing photos that are sure to get you going.
Facebook. The old favorite flip through when you're unbelievably bored, Facebook probably does not strike you as being a prime source. But, you can uncover pages with plenty of images. Think about friends, family and acquaintances that have gotten married recently. Everyone loves to post photos from their wedding.
Travel sites. Your wedding has you so wobbly in the head that thinking outside the box is something that's not on your plate. Try out some travel sites and you'll find weddings pictures promulgate page after page.
Bridal stores. Who knew, right? Well, you might be quick to dismiss but you never know what you'll discover. Generally, these aren't a treasure trove, but when you're exhausting all resources, it's certainly worth a try.
Makeup Artist Websites / Local Salons. This ought to be a no-brainer, but both local salons and local makeup artists can provide inspiration in so many places. What's more, you can ask the pros questions to help pare down your options. Peruse the bridal galleries of your local wedding makeup artist websites for inspiration- once you have found some photos you like, bring them to your hair and makeup trial and see what you and your artist can come up with.
Family and friends. So you might not want that look your third cousin had on her wedding day, but you never know when inspiration will strike. It's the details that make the biggest impression and it doesn't hurt to look at some old photos, anyway. Ask family and friends whom you know are married- someone is sure to be able to point you in the right direction.
Resorts. Are there some resorts you'd love to host your wedding? Well, you're not alone, there have been plenty of others who've tied the knot and why not check these gorgeous places out?