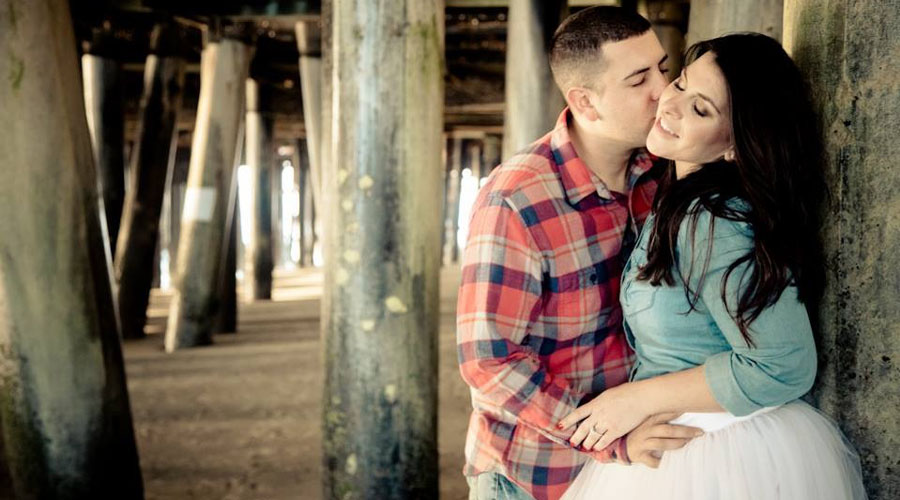 Today I am sharing with you a few photos from an engagement shoot that I was the makeup artist for that took place at the beach in Santa Monica, CA to celebrate the engagement of Samantha and Alex. Samantha and Alex are a great couple whom I had the pleasure of spending some time with when they came to my beauty studio in Calabasas.
As you can see the photos turned out beautifully which I am so happy about. The photographer from Peardon Carillo Photography did a very good job of capturing Alex and Samantha's love for each other. Santa Monica is a good place to do an engagement photo shoot- such a great setting. You've got the beach, you've got the pier… All around great setting for this kind of shoot. Engagement pictures from shoots that take place in Santa Monica always tend to turn out well in my experience.
I love how the photographer did a great job of capturing not only Alex and Samantha's love for each other, but Alex's love for his country. When you've worked on as many engagement shoots as I have the original ideas unfortunately are few and far between- I absolutely love the photo of Samantha and Alex kissing with the American flag wrapped around them both. AWESOME shot.
I want to thank Samantha for allowing me to do her hair and makeup for her shoot- you looked beautiful and I can't wait to beautify you for your wedding! I had so much fun chatting with you and Alex and hearing some of your stories (especially the one about Monster). You both are truly wonderful people.
I also want to thank Alex for his service to this country. There are never enough opportunities to thank the men and women of the armed forces.
Do you need a makeup artist for an engagement photo shoot? We would love to talk to you about creating the perfect look for your shoot.
+ View More of My Engagement Photo Shoot Work
Life is Beautiful,
Brittany Renee
Makeup Artist & Hair Stylist
Elite Makeup Designs
Photos From The Santa Monica Beaches Engagement Photo Shoot