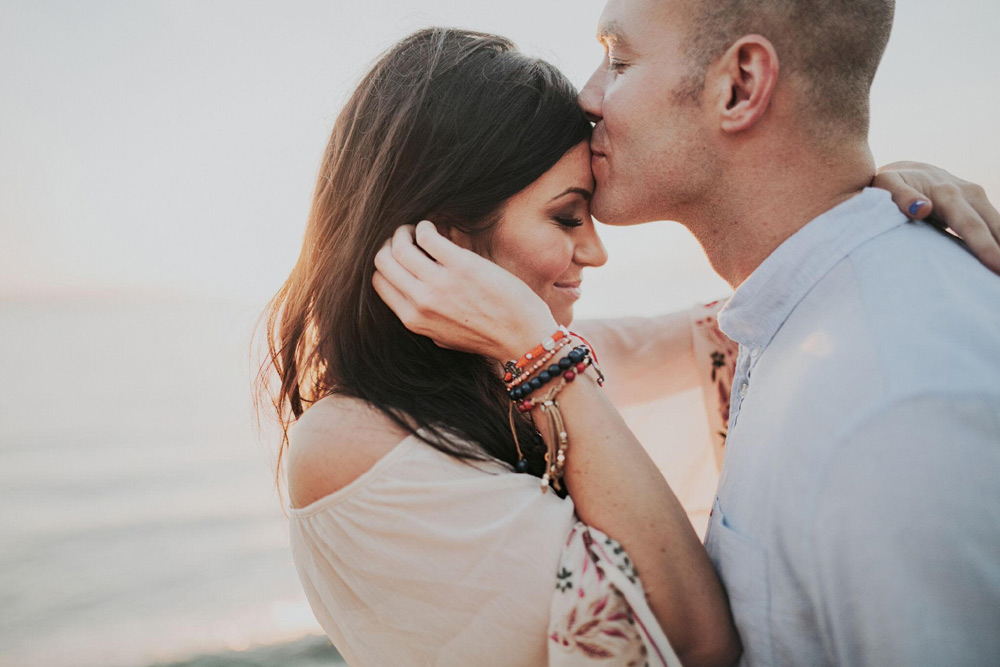 I love being the makeup artist and hair stylist for engagement photo shoots– the photos that come out of them are always amazing because if done properly, they capture a beautiful sense of happiness, joy and anticipation… I absolutely love them.
The beautiful bride featured in these engagement photos is Marci, whom I first connected with after she found me on The Knot while researching wedding makeup artists and after discussing her dream bridal look, she decided to book a hair and makeup trial.
Marci was such an awesome soul from the moment we started chatting. When we met it felt like we had been old friends and known each other for many years! I love when that happens. Stories…constant laughing…happiness… When this happens you know the artist and the client are a great fit- this is especially important as your wedding day is one of the biggest days of your life and you want to make sure you have that chemistry.
The day she chose to do her bridal trial was perfect for her because it was the day that she was going to do  her engagement photo shoot. Whenever a bride calls me asking for a trial the first thing I ask them is if they have engagement shoot, bridal shower or some sort of event planned so that they can do the trial that day.
The reason I ask is because I believe that if someone is going to get dolled up, they should take advantage of  how fabulous they look and be using it for something other than just heading back home to clean their house! HA.
Creating Marci's Engagement Look
Dark hair, light eyes and tan skin are such a fabulous canvas to play with colors on. For Marci's engagement look we really made her eyes pop while still keeping her overall look subtle. The trick with light eyes is making them look even brighter by choosing the right eye shadow colors.
For Marci's engagement look we used beautiful browns with undertones of the purple family and then placed black just on the outer corner of the eyes to build depth into the look. We used used my favorite eyeliner,  Aqua Eyes by Make Up For Ever in #2L. To top it off we gave Marci some individual lashes, airbrushed skin with powdered contour, blush and WALLA!
For her hair Marci had gotten a lovely blowout the day before which in my opinion, is always AMAZING to do the day before getting your hair done for a special event. Getting a blowout builds volume at the roots of the hair as well as placing the right amount of product to help the style for the next day give hair the tack and roughness that in my opinion, always creates the best results. Freshly clean hair is never something I recommend, for this can cause any style to fall apart much quicker if the hair doesn't grab the product the way we want it to. To finalize Marci's look, we added some thick, beachy waves to her hair using my NUME 3 in 1 32mm curling wand.
As you can see from these engagement photos, Marci looked absolutely gorgeous for her shoot and I truly cannot wait for her wedding. She is not only beautiful but a special person and I love working with people that I connect with.
I love helping people make people feel as beautiful as I can leading up to the biggest moments in their life- it is why I love being a makeup artist and why I do what I do. Mission accomplished!
Life is Beautiful,
Brittany Renee
Photos From Marci's Malibu Engagement Shoot