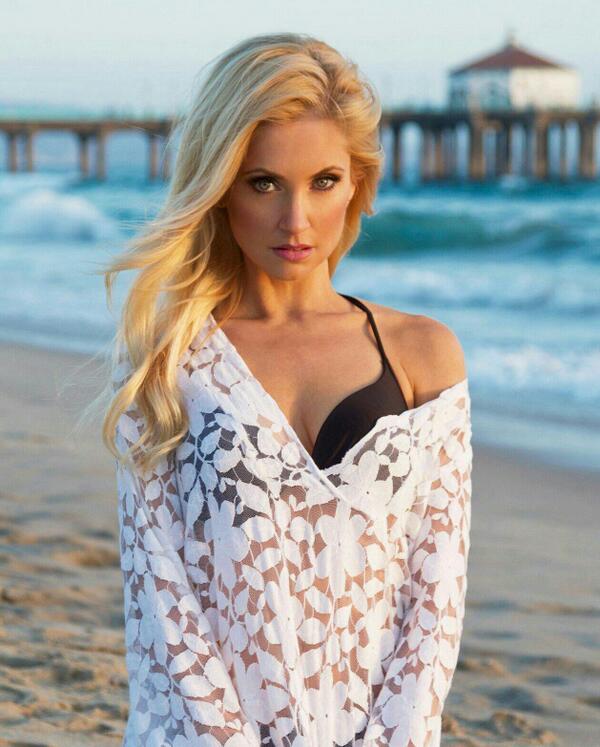 This summer I had the opportunity to be the makeup artist and hair stylist for a photo shoot with KTLA reporter Mary Beth McDade, who is not only absolutely stunning, but an amazing person. I was introduced to Mary Beth through a mutual friend and someone I have worked on many times in the past, CBS2 weather anchor Jackie Johnson. Interestingly enough, I have worked with various different news / weather anchors here in the Los Angeles area- Jackie Johnson, Mary Beth McDade and Melissa McCarty. All wonderful people.
The beauty photos that you see below were taken for the sake of updating Mary Beth's portfolio. Personally, I think they turned out amazingly. Mary Beth, as she always does when I see her on T.V., looks gorgeous. The shoot took place in Manhattan Beach on a beautiful summer day- I couldn't be happier with the way the photos turned out. The photographer for this shoot was the talented Brittany Berggren, someone whom I truly enjoy working with and always helps produce fantastic work. This day in age the photographer's skill level is very important when it comes to the final product and Brittany always delivers.
I want to thank the wonderful Jackie Johnson for introducing me to Mary Beth and giving me the opportunity to work with her. I also want to thank Mary Beth for giving me the opportunity and for being such a fun person to work with. It was a blast and I look forward to shooting again sometime soon in the near future.
Life is Beautiful,
Brittany Renee
Los Angeles Makeup Artist
Elite Makeup Designs
+ View My Celebrity Hair and Makeup Artist Portfolio 
Photos of Mary Beth McDade